May 18, 2018
Rugby is thriving at Royston RFC. Every week hundreds of men, women and children from Royston, and surrounding villages in South Cambridgeshire and North Hertfordshire, take part in training and matches at Royston Heath.
Local medical device development consultancy Cambridge Medtech Solutions recently sponsored the Mini Section during its end-of-season tour to Chichester International Mini Rugby Festival 2018.
"Here are Royston RFC, rugby is a positive experience for the children. It is great fun, and it helps to build their self-confidence, physical fitness, character, resilience and teamwork," said Mick Clark of Royston RFC. "Our end-of-season tour for the children is a major fixture in the calendar. We are delighted that Cambridge Medtech Solutions joined as a sponsor."
Stuart Kay, director at Cambridge Medtech Solutions said "Royston RFC is the latest organisation to benefit from CMS's sponsorship programme, which was launched in 2016. Our funding is aimed at the overlap between community, youth and health, and we know rugby at Royston will continue to grow from strength to strength."
Rugby is available at Royston for all ages and abilities, including adult non-contact touch rugby. Training takes place throughout the week. For more information on training or volunteering, go to www.roystonrugbyclub.co.uk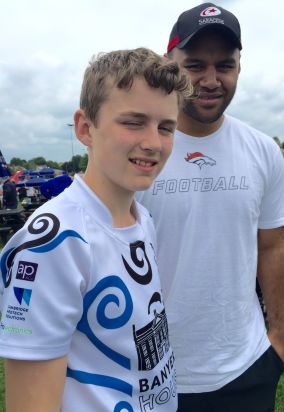 Saracens and England No. 8 Billy Vunipola joined Royston to give out the awards for the Mini and Youth age groups at their presentation and fun day on Sunday 13th May. Billy is celebrating a call up to the England squad for the upcoming tour to South Africa.